With American Thanksgiving next week, a lot of us are leaning into turkey themed activities. Books, songs, and more, these turkey activities for music class are sure to bring some fun to the classroom. (Full disclosure: some affiliate links. No pressure!)
Albuquerque Turkey
You all know I"m a sucker for cute animal books and this one doesn't disappoint. The book can be sung to the tune, "Oh My Darlin' Clementine". This cute little turkey starts to get a little worried come Wednesday when he see's his owner making some Thanksgiving foods but there is a cute twist to this story!
Author: B.G.Ford
Illustrator: Lucinda McQueen
ISBN: 978-1402720390
Buy the book on Amazon
Five Fat Turkeys
This cute song is something I've seen a lot, but never spent a lot of time knowing what to do with it. My friend Jane from SillyOMusic has this adorable game she plays so I highly recommend you check it out!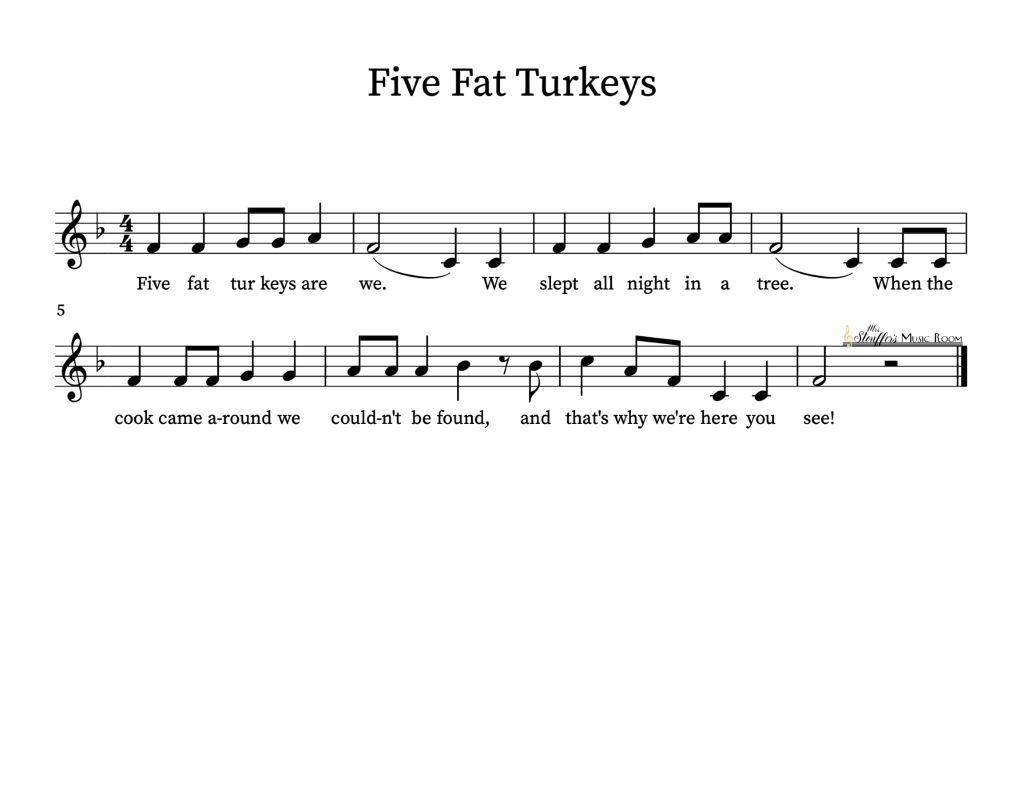 Turkey Turkey
Solfege Set: l, drmsl
Rhythm Set: ta, ti-ti, ta rest, tim-ka
I learned this fun song in my Kodaly levels and it's great for Low La and Tim-ka. I like it for the older students especially because this game does involve someone trying to catch the turkey.
Group Formation: students stand in a circle
One student is selected to be the turkey. The turkey stands outside the circle and covers his/her eyes while a butcher is selected.
Action: The turkey struts around outside the circle flapping wings. During phrases 3 & 4, the group leans forward, pats their laps and sings a little faster.
When the song ends, the butcher jumps out and chases the turkey around the circle.
The turkey tries to get back to the butcher's spot.
Snag this folk song file for pages to teach low la and tim-ka.
Turkey Instrument Families
If you aren't in the mood to teach a whole song involving turkeys or would rather not lean into the turkey worried about Thanksgiving idea, these instrument family sorting turkeys are great for centers or for practicing creating a turkey as a group. Give each student an instrument and help them find their turkey. Check out the turkey instrument sorting game here.
Turkey Vocal Exploration
This fun vocal exploration is perfect for your younger students. Comes with picture slides as well as an animated version of the file. Check it out here.
I hope that this has given you some fun ideas for the next few weeks!
Happy Turkey-ing!