So if you follow me on Instagram, you know that I recently shared a picture of my Grandma. My dad's parents immigrated at different times, from different regions of the Philippines. My Grandpa came first, met my Grandma during WW2 when he was stationed there, married her and they came (back) to the US. They never returned to visit, didn't speak the same language and over the years, lost contact with their families.
In the winter this year, I sent a private message on Facebook to someone in the right age bracket, in the right area of the world, and when she responded a few months later, I realized I had found one of my Grandma's relatives and have found a huge family I never knew. I've learned things about my grandparents, seen pictures of my my great grandfather I never saw before and have learned a lot about my family I might never have learned except this chance Facebook message.
This year, Asian American Pacific Islander Heritage Month hits me a little different. I didn't grow up with a lot of customs from my dad's side of the family and I'm happy I've been able to reconnect with my family and learn more about my heritage in the last few months so I thought I would would share more than my typical three books. I hope these can really help you out! Here are 7 great books for Asian American Pacific Islander Heritage Month for kids.
I'm very much a person who makes sure that I cover different cultural groups all year and not just in 'the' month that is set aside.
But I still think it's important to cover them in that month.
(Full disclosure: some affiliate links but it won't change your price. No pressure!)
1. Father's Chinese Opera
Author: Rich Lo, Illustrator: Rich Lo
ISBN: 978-1628736106
Buy the Book on Amazon
This book is written by Rich Lo, son of Lo Tok who was a famous Chinese opera composer. This is a story of himself a child watching the performers and wanting to be part of the action. The book has biography of Lo Tok at the end as well as a thorough description of Chinese opera as a genre and how it appears in practice.
Listening: "The Chinese Opera "Prosperous Gardens" performed at the 2021 Spring Festival Gala brings you a feast of traditional opera culture."
2. The Drum: A Folktale from India
Author: Rob Cleveland, Illustrator: Tom Wrenn
ISBN: 978-0874838022
Buy the Book on Amazon
This story is about a boy who wants nothing but a drum but his mother does not have the money to buy it for him. He is a giving and helpful boy who's kindness helps him get what he most desires.
Listen: Legitimately, Indian music blows my mind. When I was still a new teacher, I had students who studied traditional Indian music and when they would come running in to tell me the things they learned … humbling. This tabla solo by Zakir Hussain is both beautiful and mind blowing.
3. Drum Dream Girl
Author: Margarita Engle, Illustrator:Rafael López
ISBN: 978-0544102293
Buy the Book on Amazon
Likely you've heard of this book and it would be great to break out during Hispanic Heritage Month too for obvious reasons, but it's a great reminder that many of our students have more than one heritage. Millo Castro Zaldarriaga, a Chinese-African-Cuban girl was one of the first women to play drums in Cuba. Breaking tradition, she made it possible for future girls in Cuba to be drummers.
Listening: You can hear her playing the drums on this recording.
4. Hana Hashimoto, Sixth Violin
Author: Chieri Uegaki, Illustrator: Qin Leng
ISBN: 978-1894786331
Buy the Book on Amazon
The sixth violinist to perform in the school talent show is Hana Hashimoto who's brothers laughed when she said she would play it for the event. Inspired by her grandfather who was a professional violinist, this is a sweet story of passing music in the family.
Listening: This is a lovely piece by composer Joe Hisaishi, a prolific composer known for his film work from Japan.
5. Yo-Yo & Yeou-Cheng Ma Finding Their Way
Author: Ai-Ling Louie Illustrator: Cathy Peng
ISBN: 978-0978746506
Buy the Book on Amazon
This biography for kids of the two prodigies showcases their work as well as reminds us that music doesn't always have to be the only path, but our music can help shape our path.
Listening: For this book I have two. First, Dr. Yeou-Cheng Ma, a former child prodigy and now a top pediatrician plays the violin as an adult. The song is mis-labled in the description. It is Sicilienne by Paradis.
Perhaps one of my absolute favorite things to listen for and one of the things we will remember Yo-Yo Ma for is his recordings of the Bach Preludes. Even if your students don't know the name, they might recognize the music! Also, this lovely video showcases so many people, so much art, and so much life.
6. Jasmine Toguchi: Drummer Girl
Author: Illustrator:
ISBN:
Buy the Book on Amazon
Part of her series on Jasmine Toguchi, an eight year old Japanese-American girl, this book is about Jasmine learning the Taiko, a traditional Japanese drum. Girl drummer for the win. This chapter book is barely over 100 pages and would be a great book to add to a classroom library, or for a repeated classroom read aloud with older elementary.
Listening: This video is young Taiko drum students (approximate ages 10-16)
Part 1: https://www.youtube.com/watch?v=CsKqBy2uJ34
Part 2: https://www.youtube.com/watch?v=6mxc5BbR8S4
7. Pan de Sal Saves the Day
Author: Norma Olizon-Chikiamco Illustrator: Mark Salvatus
ISBN: 978-0804847544
Buy the Book on Amazon
This book is a great lesson for social emotional learning as well as a wonderful book to highlight culture of the Philippines, and remind your students that all their voices are important. This book is also bilingual English and Tagalog so if you have students who speak Tagalog at home this would be a great tie in for them! This is also a first prize, short story for children winner for the Carlos Palanca Memorial Award for Literature in the Philippines.
Listening: One of the features of this book is when Pan de Sal sings songs she knows from her mother (kundiman – traditional Filipino love songs) This is one of the songs she sings them.

I spent some time developing some lessons to go along with Pan de Sal in the first of a series that are available in my TpT store. Some of the things you will find in here are:
– Composition worksheets with stick and regular notation with the characters' names.
– Writing prompts for students on how they could save the day, or their reactions as if they were a student that got stranded.
– LISTENING! You know this is my jam and this book doesn't disappoint for great examples. Pan de Sal sings 3 kundiman songs to her friends and a Filipino folk song. You can listen to the songs, sing the folk song, learn a dance for the folk song (there are a bunch on Youtube!) or watch a rondalla play the song.
– Learn some Tagalog! (Only one of several languages in the Philippines – my grandparents only understood each other in English). Even as a dual language book with English and Tagalog on each page, some of the words Pan de Sal uses are strictly in Tagalog. This offers a great way to introduce some very important cultural things in the Philippines.
– Play Sipa!! It's a favorite children's' game with variations that turned in a professional sport. My

As a thanks for reading my blog, I've got one of the composition sheets with you here for FREE.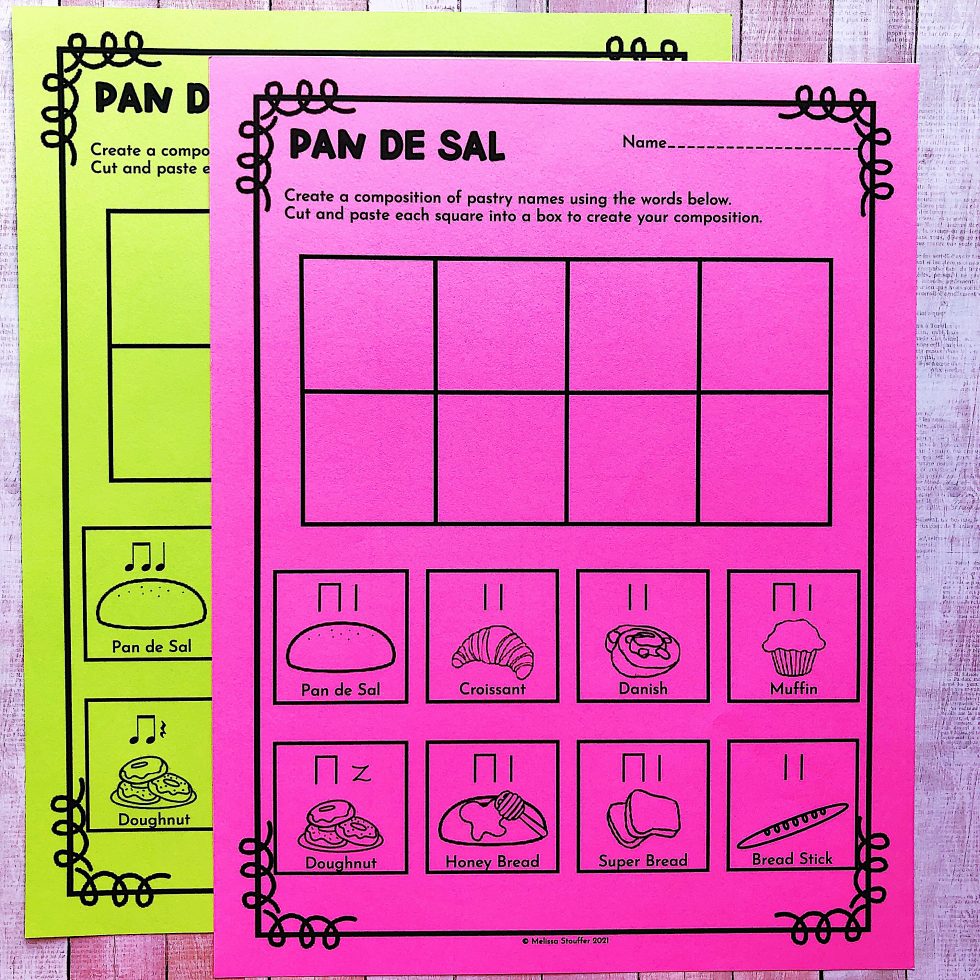 You can get the whole set of activities and listening links in my TpT store.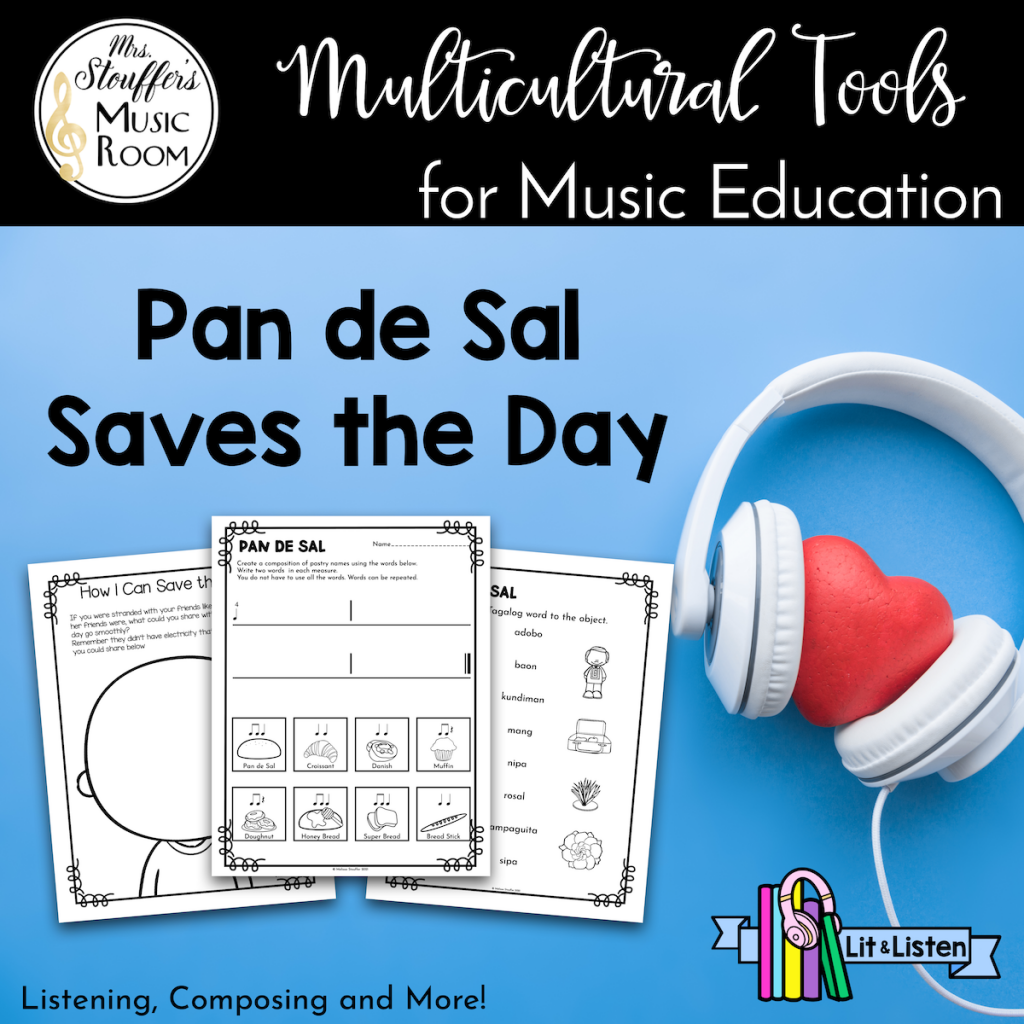 Looking for even MORE books? Check out The Ultimate Music Ed Book List for more literature for the music classroom.
Also, Western Asia is still part of this month! Check out my post on books for Arab American Heritage Month.
I hope that this has been helpful and as always, thanks for reading!