October is Filipino American History Month. If you read my blog regularly or follow me on Instagram, you know I am half Filipino/Chinese, and that earlier this year I found my grandma's huge family by chance thanks to a cousin who responded to a random Facebook message. This is the 1st in a series of 4 posts this month about Filipino heritage and culture as I work more to find out more about my heritage.


Sadly, there are no books about Filipino musicians that I can find, but that doesn't mean we can't have a musical experience. Here are three books that I think will give your kids a taste of the Filipino culture.
(Full disclosure: some affiliate links but it won't change your price. No pressure!) If you chose to shop independent, as always, I urge you to try Powell's Books.
1. Cora Cooks Pancit
Author: Dorina K. Lazo Gilmore
Illustrator: Kristi Valiant
ISBN: 978-1885008480
Buy the Book on Amazon
Pancit is one of the few Filipino foods my Grandma Pacita made when I was growing up. She did not cook for us often, but I remember huge bowls of pancit at Thanksgiving.
Listening: Bahay Kubo – one of the most well known Filipino folk songs, Bahay Kubo, or nipa hut, is the stilted house style that the Philippine Islands are known for. I should mention the Philippines have several different languages and there are other words for this home style as well. My grandparents only spoke English to each other as they spoke different dialects.
2. Filipino Children's Favorite Stories
Author: Liana Romulo
Illustrator: Joanne de Leon
ISBN: 978-0804850216
Buy the Book on Amazon
These different folk tales provide a great backdrop to creating sound stories. There are thirteen different stories so you can easily adapt for different grade levels. Read the story, then have students create different sounds for different characters or actions, or to represent different things in the story. Using folk tales from different cultures is a fun way to incorporate a creative element and use authentic pieces from different cultures. This book gives you several options.
3. Pan de Sal Saves the Day
Author: Norma Olizon-Chikiamco
Illustrator: Mark Salvatus
ISBN: 978-0804847544
Buy the Book on Amazon
If you regularly read my posts, you know that I've talked about this book before. I debated putting it in here but ultimately I think it's worth an extra look if you haven't bought it yet. First, it does have a musical element to it, the only one on this list. Second, there are not a lot of books that work for music class about Filipino children (or even about Filipino children). This one has such a great message and with the musical element, I couldn't pass it up. It is a great book for a social emotional learning lesson that does not feel contrived as it has a musical element as well.
Listening: Leron Leron Sinta
This one has a great bouncing ball lyrics, but I really like the choral arrangement below.
A Philippine folk song, this is also a children's song.
You can find the translation here.
Also available for this book are some worksheets I've create on TpT.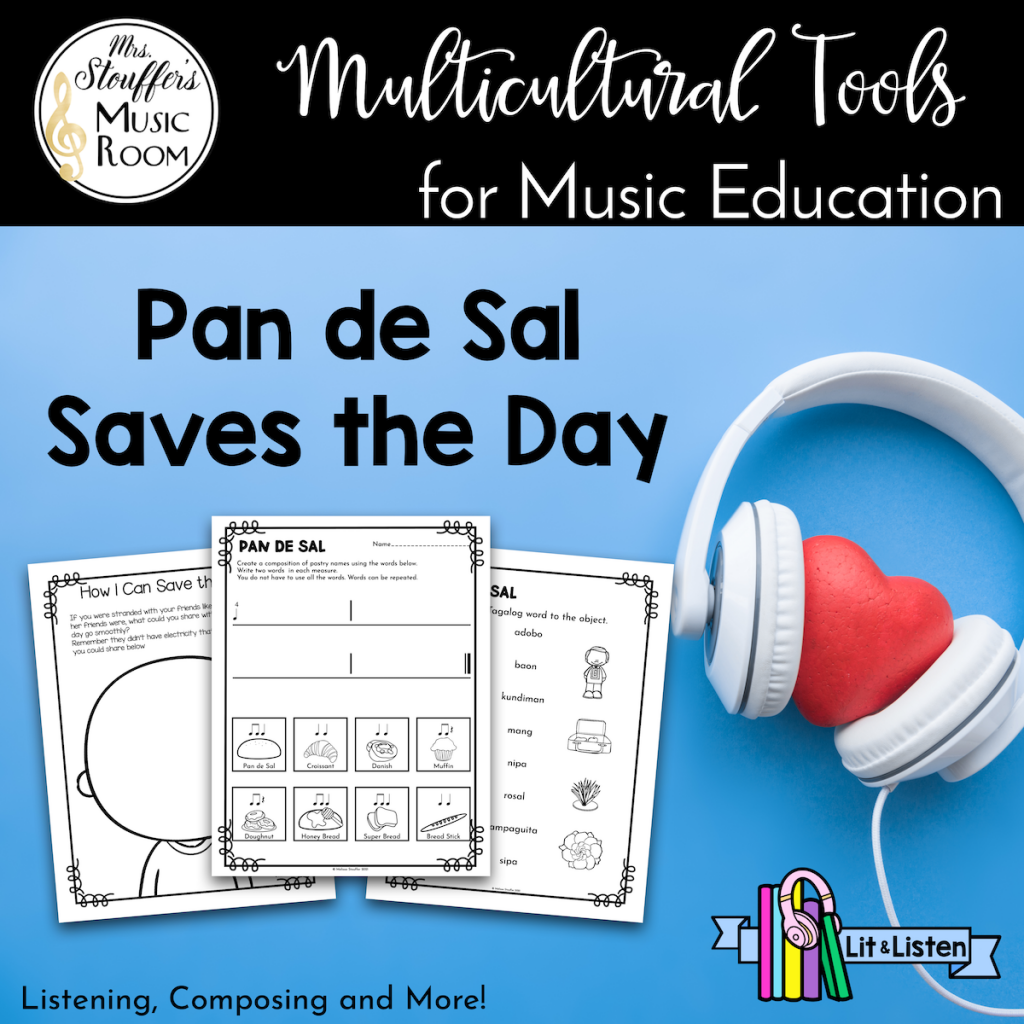 Also here are some free composition sheets from the set.
I hope that you love these books as much as I do!