Steady Beat Listening
These are some great songs to listen to that have a really solid steady beat. They are great for playing instruments, body percussion or locomotor/non-locomotor music. Some of these are available in Kidzbop versions.
Hoe-down from "Rodeo" (Copland)
William Tell Overture (Rossini) – start playing/clapping after the intro
Sabre Dance (Khachaturian)
Stars and Stripes (or really most marches)
Happy from Despicable Me 2 (Pharrell Williams)
MMMBop (Hanson)
Can't Stop the Feeling (KidzBop) (Justin Timberlake)
Uptown Funk (KidzBop) (Mark Ronson ft. Bruno Mars)
Orpheus in the Underworld (Offenbach) – start at the famous "can can" part.
Comedian's Galop (Kabalevsky)
Dynamite (Taio Cruz)
Blue (Eiffel 65)
It Don't Mean a Thing If It Ain't Got that Swing (Ellington with Fitzgerald) – there are several versions of this out there but the version with Duke and Ella on Johnny Carson is fast and has a very obvious beat.
In the Mood (Glenn Miller)
Sing Sing Sing (Benny Goodman)
Bugle Call Rag
Sir Duke (Stevie Wonder)
From Now On (Greatest Showman) – start playing/clapping after the intro
Move Its:
#5 Move it 1 – Lieutenant Kijé Suite, Op. 60 -The Wedding Of Kijé
#7 Move it 1 – Humoresque
Play Alongs:
Essential Songs for Classwork
Click the links to find digital folk song files for the different songs. Not all of these are links to my store.
For this song, I like adding a yelled "one" or "two", etc at the end of the verse instead of having a rest so there is no question that the beat keeps going.
Snail Snail – this one really drives home the point since the rhythm is the same as the beat in the first measure. Snag this file for free.
Poems and Chants: This is really more than one, but poems and chants that have a natural steady beat are a great resource because they allow the only focus to be the beat. Some great examples are: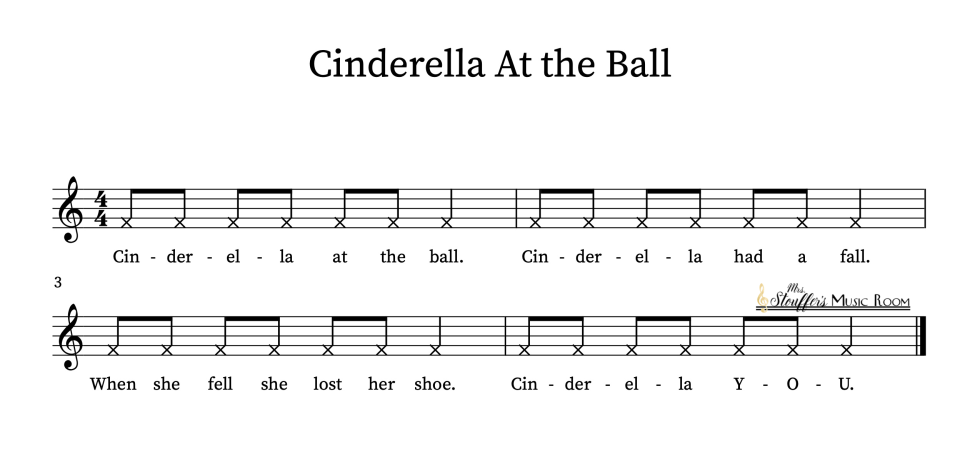 Chop Chop Chippety Chop – This is not really a Kodaly thing to introduce a song that isn't in 2/4 or 4/4. However, I think the practical application of having songs that are not in duple is a great idea.
I hope this list gives you some great ideas to teach your students steady beat!