Teaching in a restricted environment is no fun at all. I get it.
This is why I think it's important to have awesome lessons that don't even feel like the students are missing out on anything.
I wrote these 6 lessons for COVID teaching to help you out.
Restrictions in music class are no fun, but with these, your kids won't even know the difference!
6 Lessons For COVID Teaching In Music
1. Composing
Composing is one the most creative things our kids can do when we let them have time and there are SO many ways we can have them compose.
There are some great online tools: Paint Composer, Noteflight, Chrome Music Lab, and Incredibox to name a few of my favorites.
They can be used in different ways and with different ages. All of them allow for some saving of projects (although Paint Composer and Noteflight let kids go back in to continue working on a project as well as saving to share.)
Additionally, Noteflight is built for teachers to use in their classrooms.
It operates like a traditional music notation software and is web-based so it works on all devices. With Noteflight, teachers can create worksheets and templates for students to assign as well.
For pencil and paper composing, check out this adorable Halloween composing from my TpT store.
It's got multiple levels built-in allowing for pattern creation with the youngest students and more complex rhythms up to sixteenth note variations.
Other options for composing with your kids that are in my store including shape composing for your youngest students, fall composing and melodic composing can be found here.
2. Move It!
We are all SO over it and it's barely October. Restrictions on kids for moving are frustrating and kids need to move. So let's get them moving!
Three easy ways to move: scarves, adapt a dance, and body percussion.
Read more about these in a recent blog post located here.
3. Get Noisy
Science of sound lessons are part of the student's science curricula but there is no reason we can't include it in a unit about instruments.
Explore how sound is made, go through strings, skins, and winds, and follow it up with a create your own instrument! If you want great ideas for creating instruments, I've been pulling lots of ideas into a Pinterest board. You can find all the ideas here.
If you are looking for a great Science of Sound lesson, check out this set from my friend Shelley at Pitch Publications.
4. Passing Games
I know. What? You can totally adapt them!
Instead of passing an object, pass the beat. Students have to clap, stomp, stand up, and wiggle, or whatever you come up with.
For instance, if you are playing Peg Leg the Pirate, maybe each student says does a silent movement instead of passing the coin while the person in the 'center' (or upfront – however you have to adapt if kids are at desks), turns their back or keeps their eyes closed.
If you are playing Freddy Oaka, instead of a hand slap, have both kids who would be in the possible out spot yell a word like "out". Or just skip the elimination part and have the person who is the number be out for one round.
5. "Bucket" Drumming
What's great about bucket drumming is that you can easily disinfect the materials.
You can also adapt the materials.
Instead of buckets you can repurpose plastic food containers and use wooden dowels or bamboo skewers to adapt.
Or store those skewers in plastic bags so each kid has their own to come back to when you use them on the buckets. Not only are they inexpensive to replace if someone breaks but they will be easier on the ears.
Skewers will also be a great option if you are traveling to classrooms. They can be played on a desk without any damage.

There are lots of different activities you can do with buckets including:
YouTube play alongs
Play alongs from TpT
Create your own to a song
Ostinato creation
Practice reading rhythms
Dictation practice
In the meantime, check out this play along cause everyone likes tacos!
6. Listening and Music History
Now I'm not talking about studying composers and worksheets until we memorize who they were.
I'm talking about active listening and composers and musicians that really grab your kids' interest.
Make sure you cover composers who are non-European, modern, living, women, LGTBQ composers, non-"classical" and everything else. There is more than one style in music-making and we should cover as many as possible.
I set out to make a comprehensive list of people I wanted my kids to know and this has 32 weeks of listening selections for each grade level with YouTube AND SafeYouTube links included.
Check it out here.
If we get to do more musicians than we usually do in a year because we can't do our normal, make sure you really help your students feel represented.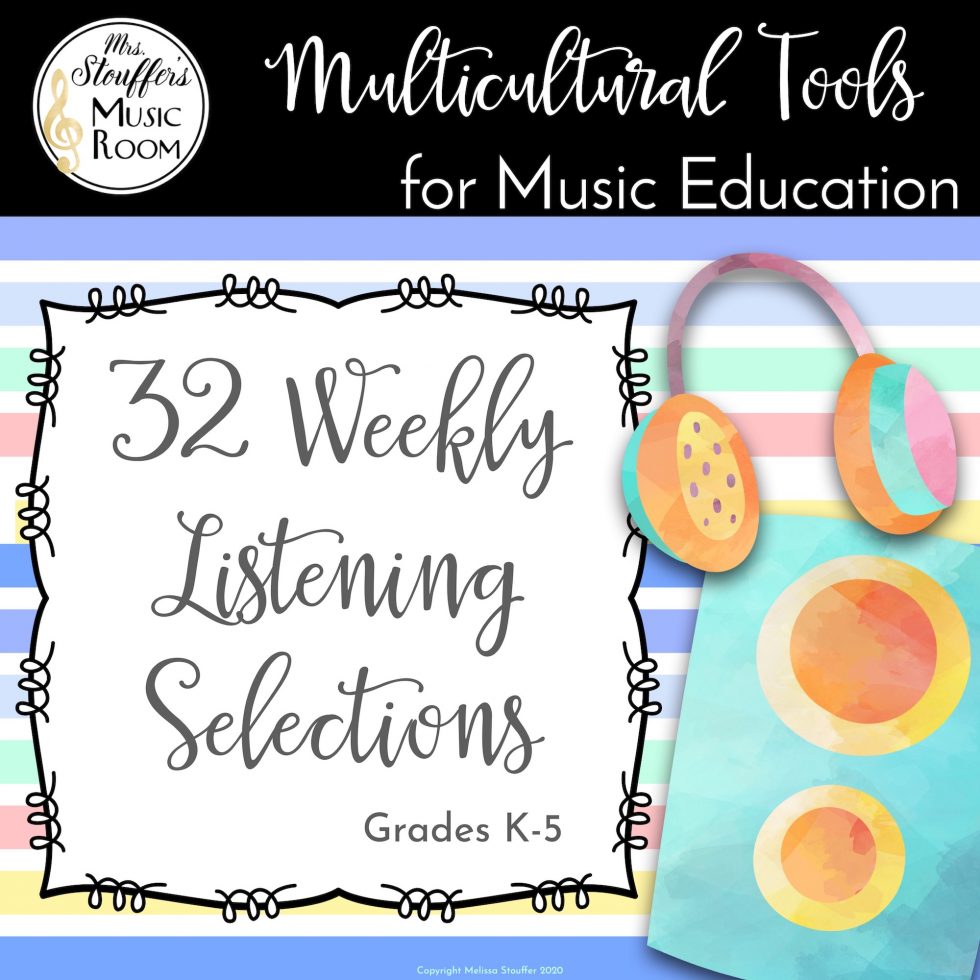 When your kids listen to music there are lots of approaches to how they interact with the music.
They can move to the music, do a worksheet, draw a picture, or analyze the elements of music in an age-appropriate way.
Whatever you do with it, make sure they are engaged. These worksheets are great for active listening.
Those are my 6 best lesson ideas for COVID teaching. I'd love to hear how you are incorporating them in your classroom!
Hope this has been helpful!